River Conon
---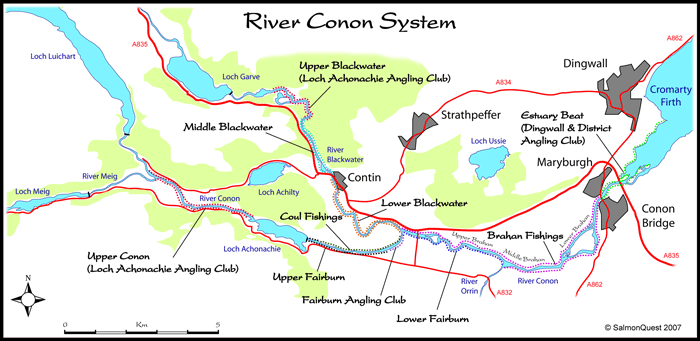 The River Conon is Ross-shire's premier salmon and sea-trout river. Transformed by a major hydro-electric scheme in the 1950's, today the most productive salmon fishing is in the main river from below Loch Achonachie to the Cromarty Firth, and in the Blackwater tributary. Average annual rod catches for the Conon system are over 1200 salmon & grilse per year of which about two thirds are caught in the main river below the junction with the Blackwater.
Lower Fairburn/Brahan Fishings, River Conon
Image courtesy of Andrew Graham-Stewart
On the River Conon we have salmon fishing available from time to time on the following beats:
---
Upper Fairburn Fishings
The Upper Fairburn Fishings begin approximately 90m below the Torr Achilty Dam and for the next 450m or so the fishings are double banked before the Coul Fishings begin on the north bank. The Upper Fairburn beat then continues along the south bank for a further 1 mile. Through an agreement with Coul, much of this section is unfished, with the exception of the Upper and Lower Boat pools which are shared on a 24 hour basis. From May the fishings accommodate 3 rods.

The 5 year average for the Upper Fairburn is 126 salmon and grilse. The fishings are fished throughout the season almost exclusively by the proprietors, and it is very rare that there is any public availability.

Sandbanks, Upper Fairburn
Availability
No availability currently
For further information regarding Upper Fairburn please visit the dedicated page on CononFishing.com.
Click to visit Upper Fairburn Fishings page on CononFishing.com
---
Coul Fishings
The Coul Fishings comprise double bank fishing for 4/5 rods on the River Conon starting approximately 500m below Torr Achilty Dam and Power Station extending for a distance of about 1.8 miles (2.9 km) downstream to the junction with the River Blackwater.

The 5 year average for the Coul Fishings is 96 salmon and grilse. In the earlier part of the season salmon fishing is often available on a single rod basis and occasionally single days, but from June the beat is let as complete weeks only.

Deer Fence Pool, Coul
Availability
No availability currently
For detailed information regarding the Coul Fishings, please visit the Coul Fishings page on CononFishing.com:
Click to visit Coul Fishings page on CononFishing.com
---
Lower Fairburn Fishings
he Lower Fairburn fishings start from a point 250 metres upstream of the junction with the Blackwater and extend to the junction with the River Orrin, fishing being from the right bank only. There are 12 large pools (typically 50-200m long) over a distance of some 2.5 miles. The beat is fished by 5 rods and there is an informal rotation system on the pools managed by the full-time ghillie.

Lower Fairburn has a 5-year average of 172 salmon & grilse, with 162 caught in 2008.

Bend Pool, Lower Fairburn
Availability
No availability currently
For detailed information regarding Lower Fairburn, please visit the Lower Fairburn Fishings page on CononFishing.com:

Click to visit the Lower Fairburn Fishings page on CononFishing.com